COVID-19 Company Policy
Amber Phase (Needs-Led Eyecare)
As an essential healthcare provider, you can still travel to us for your eye appointments based on the latest Government and NHS advice. Hence, we are welcoming patients on a needs-led basis. All patients must first contact the practice on 01925 290 757 and a triage will be conducted.
If an appointment is made then the following will apply: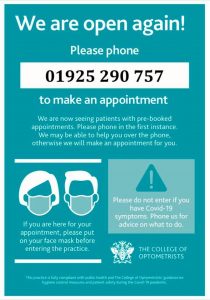 Only one person may enter the practice for the appointment. If the patient arrives with an accompanying person then only the patient will be admitted. In cases where the patient is a child or in need of assistance then only one accompanying person will be admitted to enter.
Patients must observe social distancing at all times and follow the instructions of staff when manoeuvring around the practice.
Everyone must wear face coverings. These do not need to be medical masks, they can be homemade coverings as advised on the government website. Anyone not wearing a face covering may be refused entry.
Temperature checks will be conducted on everyone entering the practice and hand sanitizer will be administered. If you display any symptoms of COVID-19 (including high temperature) you will be asked to leave and call NHS 111.
We are operating a strict time keeping policy. Due to social distancing all appointments are pre-booked. If you are late to your appointment you may be re-booked.
These are very challenging times and this policy has been set to ensure the health and safety of both patients and staff. Total Eyecare operates a zero-tolerance policy in regards to abusive/violent behaviour towards staff and we ask that all visitors respect this. We look forward to returning to normal soon and this policy will be updated to reflect this.